Search patient videos based on condition tags.
Keyword: Out-of-State Travel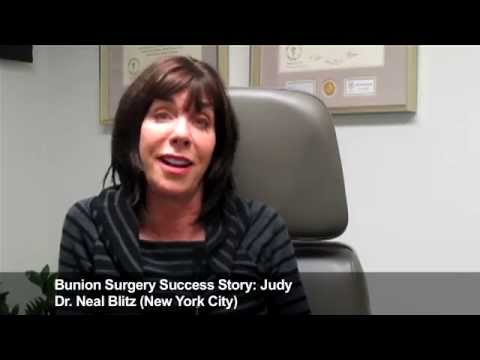 Judy: Bunion Surgery
Dr. Blitz fixed my foot perfectly, whereas a I couldn't even find a doctor in Canada to do it. With Dr. Blitz allowed me to walk and be mobile.
Judy traveled from Canada for Revision Bunion Surgery/Revision Hammer Toe Surgery and Bunionplasty®. Both feet were corrected at the same time. Dr. Blitz' surgery allowed her to walk immediately on both feet while her previous surgery involved casts and crutches/wheelchair.
My name is Judy and I came from Calvary Alberta Canada for revision surgery on one foot and for surgery on the other foot.
I'm very, very, very pleased with the results. I had a very good experience here. Dr. Blitz treated me wonderfully and his staff and the end result is excellent.
I found Dr. Blitz, actually, on the internet and I did a lot of research. I was looking at different sites and different reviews and that's basically how I found him. Through references, it seemed to be the way to go.
So, I had surgery done in Canada and my left toe popped up to the point where I couldn't even wear shoes anymore. So it wasn't done properly… The bunion as well.
And Dr. Blitz actually had to lengthen the toe and fix it up basically and he did it perfectly whereas in Canada, I couldn't find one to do it.
Having surgery the second time was a lot different than the first time because the first time I had bunion in Canada, I couldn't weight bearer for 6 to 8 weeks. I was on crutches or a wheelchair… whichever devise I was using. Whereas with Dr. Blitz, I got a Lapidus plate put in which allowed me to walk and pretty much be mobile.
Dr. Blitz is very professional. He made me feel much at ease. I was very nervous when i first decided to do the surgery. He made me feel so much at ease. I could call the office and talk to the office manager who also made me at ease.
I felt like I was in very good care and the day of the surgery, I knew everything was going to be just fine.
So traveling to New York for the surgery was actually a lot easier than I imagined it would be. Recovering in a Hotel room was wonderful. The care that I got here was fantastic.
I actually think coming to New York, getting your surgery done by Dr. Blitz is the best thing you can do if you've got any kind of bunion or foot problem.
I'm very happy with the results of Dr. Blitz' surgery and I would be happy to be a reference to anybody who is thinking of doing this surgery.
It's definitely worth taking the trip here and getting it done and getting it done right.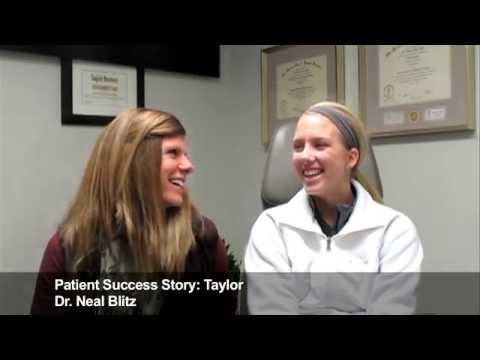 Taylor: Bunion Surgery
My feet look beautiful. I never thought my feet would as good as they do now, they are perfect.
Taylor (and her mother) traveled from Duluth for Bunionplasty® on both feet because the recovery would allow her to walk in a small surgical shoe without casts and crutches. They traveled because they feel Dr. Blitz is the best bunion bunion surgeon in the Untied States, and are happy with the result.
Tera – Hi, my name is Tera and we traveled here from Minnesota to have Bunion Surgery.
Taylor – I never thought that my feet would look the way they do now. There perfect.
Tera – So Tayler had both of her feed done and she also had a correction on malunion 3rd toe that she had previous surgeries on that did not go very well.
Taylor – I definitely think I made the right decision by coming to New York to have Bunion Surgery.
Tera – We found Dr. Blitz by searching on the internet for someone who is considered an expert in Bunion Surgery. Dr. Blitz has a very personable way with the patients and both Taylor and I felt that meeting him fit both our expectations right off the bat and his follow up care is tremendous and we can say we have never had that experience with a surgeon or doctor before.
I would say the Travel experience actually went quite well. Everything came together very quickly and with how quickly it went, it was actually a very easy trip to plan.
Taylor – Yea, I would do it again! My feet look beautiful!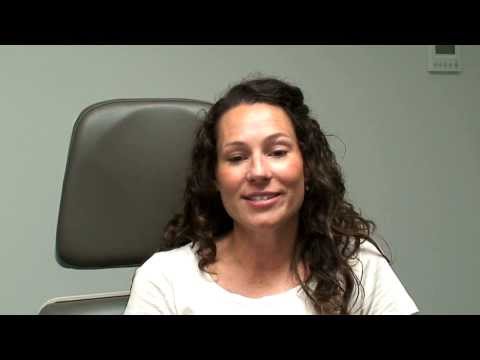 Madelyn: Pediatric Bunion
It was worth the travel for the peace of mind that your child has been operated on by someone that really cares
After a nationwide search, parents of Madelyn travel to NYC from Georgia for surgical treatment of a very painful pediatric bunion.
I'm from South Georgia and we traveled to New York to have surgery with Dr. Blitz for my daughter Madelyn who's ten with bunions.
Bunions are kind of rare for children of that age, and so I made phone call after phone call to all the major hospitals in our area. I had a hard time finding someone that felt comfortable working with a child of this age with the growth plate issue like she has. So I got on the internet and I searched and searched and every single topic that I pulled–
Dr. Blitz has been so good. He's not only a knowledgeable physician, he's also a good person. And I cannot say enough about, you know, it's worth the travel to get there for the peace of mind that your child is being operated on by somebody that really cares.
Traveling to New York for foot surgery was actually very simple. We visited Dr. Blitz in his office before the surgery. We had surgery at Mount Sinai, everyone there was wonderful, we had wonderful patient care. We stayed in a hotel nearby and we actually had Dr. Blitz visit us in our hotel room the day after surgery. And then before we flew back out, we visited him again and I just can't say enough about the continual patient care.
Madelyn has so enjoyed working with Dr. Blitz. He's very kind, he's very caring, he's funny, he just has a wonderful bedside manner.
I will definitely be back. Madelyn needs her inner foot operated on in the future. I will be back and I would recommend Dr. Blitz to anyone.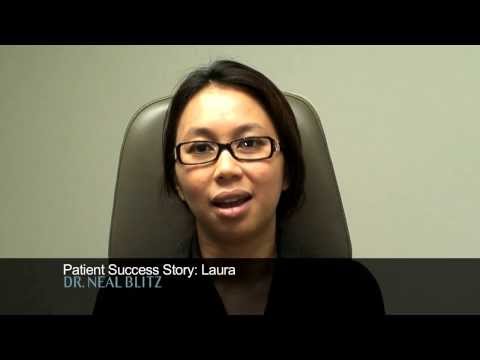 Laura: Revision Bunion Surgery
Within the first few minutes, I realized that Dr. Blitz was the person who I wanted to work on my feet
Laura traveled from Florida for major revision bunion surgery as her first surgery resulted in a nonfunctional short big toe. Dr. Blitz performed a revision Lapidus bunionectomy and now her toe is well aligned and functioning.
Hi. My name's Laura. I traveled from Tampa to New York to see Dr. Blitz. I had a failed lapidus bunion surgery a year ago.
Before coming to New York, my big toe was very stiff. It wasn't moving. It was much shorter than the other toes and I had a large bump on the base of my big toe, which caused me, I felt like I was walking on a golf ball every day.
I found Dr. Blitz on the Internet and did a lot of research and found that he was one of three specialists that performed revision bunion surgery.
Dr. Blitz thoroughly explained to me what the issue was and lengthened my big toe and positioned it to where it should have been originally.
Dr. Blitz is great. He — during the first visit, actually during the first phone call, he made me feel very comfortable. It's very important. At least I felt that it was very important for Dr. Blitz to explain everything to me in detail and within the first few minutes, I realized that Dr. Blitz was the person who I wanted to work on my feet.
My foot looks normal. It feels normal and the toes are in the right spot. I actually feel that this is the foot I should have had when I was born.
The travel to New York was very easy and it was a non-stop flight from Tampa to New York. And once I was at the airport, LaGuardia, it's very easy to get a cab to Manhattan. It's about a 30-minute cab ride. So overall, everything was very simple for someone who was coming from out of town.
I recommend you do the research, look at all the articles, look at the testimonials online, compare every physician to each other and I believe you'll find that Dr. Blitz has the most information published for an informed patient. So don't be hesitant. Realize that there's still so much to do in life. You've got to have faith and just take that next step.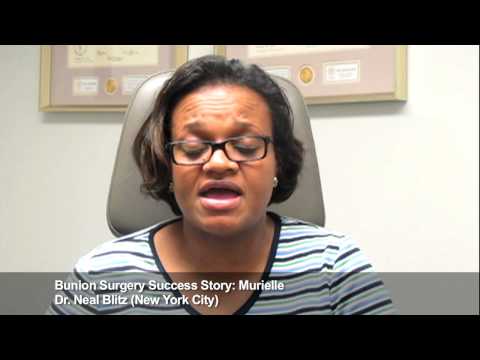 Murielle: Revision Bunion Surgery
I am from Maryland and come to New York for Dr. Blitz for revision bunion surgery on both of my feet. You can trust your feet to Dr. Blitz
Murielle had previous bunion surgery that resulted in the immediate return of her bunions. She traveled to Dr. Blitz for revision bunion surgery on both feet at the same time. After surgery on both feet she was walking in a surgical shoe (No Cast No Crutches™). She is a registered nurse and is pleased with her now straight bunion free feet.
Hi, I'm Murielle. I'm from Maryland. I came up to New York to see Dr. Blitz for a revision of some Bunionectomies on both of my feet.
I had my previous surgeries done with a physician in Maryland. I trusted her very much. She used to give me injections for pain and she did surgery on my right foot first; promised she would correct the bunions. 2 weeks later, she did the 2nd foot and 5 weeks thereafter, both my big toes were turned inwards. The procedure failed. The bunions were not corrected. I then proceeded to do my own search because I was in pain and I needed for my feet to look right.
I did my own search on the internet and I found Dr. Blitz. I did my own search and I called him. His team saw me right away, they fit me in.
I chose Dr. Blitz for revision because it was very difficult. Talking to the physician who did my surgery for me before explained she couldn't do the surgery at the base of my foot where it was situated/where it was located. So I decided to find a physician who was experienced with the kind of bunions that i have because they were described to me as severe bunions. So I did my search, found Dr. Blitz, and sure enough, he was able to do the corrections.
Dr. Blitz has created a surgery that requires no crutches. He did both of my feet at the same time and I am able to emulate with no difficulties. I'm back, I'm up and I'm walking around.
Now after the surgery, my toes are straight, they are all aligned. I feel like I have beautiful feet.
My experience with Dr. Blitz in the office was excellent. Well understanding staff. I am also a nurse. I work in a very big institution; a teaching institution.
One thing I would like to add, regard this to all, right here in New York City, or Maryland like me, or the Kingdom of Saudi Arabia, in Europe, wherever you are, you can trust your feet to Dr. Blitz.