Search patient videos based on condition tags.
Keyword: Lapidus Bunionectomy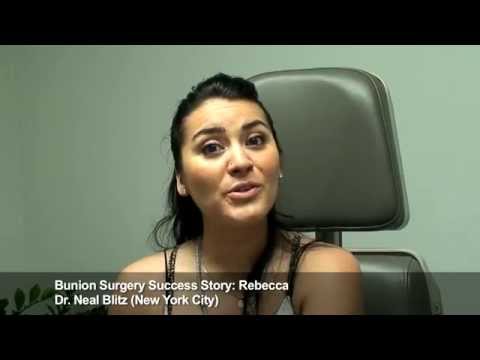 Rebecca: Bunion Surgery
I came from Shanghai... I'm so glad I waited to have Bunion Surgery because I ended up finding the best bunion surgeon. Dr. Blitz has transformed my life
Rebecca traveled 7400 miles from Shanghai to have Bunionplasty® Bunion Surgery by Dr. Blitz. She was able to walk immediately after surgery in a small surgical shoe. She is extremely happy with her result and says the Dr. Blitz gave her a new foot
My name is Rebecca. I traveled from Shanghai. I had one research on Dr. Blitz. I had gone to numerous websites, read blogs, and all his reviews were phenomenal. And, so why I selected Dr. Blitz, was so many international patients that sought him for his professional expertise and what he did was amazing.
It was a treatment that I should have done 10 years before but I'm so glad I had waited to do it now. I had heard horror stories of other friends; acquaintances that had done the same surgery and they had just felt horrible pain. The results were horrible that something so aesthetically unattractive and were pretty embarrassed to talk about had returned. Something so natural as having not only aesthetically pretty feet, but also feet that are also uncomfortable. And so, Dr. Blitz, the office, the hospital, everything was just incredible and I would recommend him to anybody and everybody.
From the moment we spoke on the phone to the moment I met him, has been superb. You cannot ask for anything more. Also too, we are very self-conscious, especially with something so unattractive like a bunion. His way of handling me and his delicate nature is just incredible and it's exactly what you want. You want someone to be as delicate and thoughtful and just, like I said, he was very warm and made you feel at ease the moment that he met you/met me.
I had waited almost 15 years to get a surgery that I should have done and I waited and I waited for multiple reasons. I was embarrassed, I was very self-conscious. I was also afraid of the pain. And so, there were numerous reasons why I did not want to do the surgery. But I'm so glad that I waited because I ended up finding the best. And so what I recommend for those of you out there that are thinking about it that are on the fence about getting it, don't wait any longer. He has literally transformed my life.
Just being able to wear normal shoes and not being self-conscious and pain free is, like I said, has changed my life.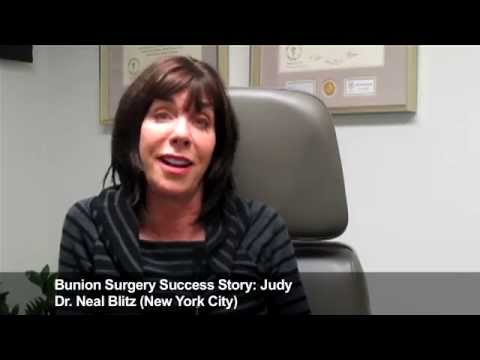 Judy: Bunion Surgery
Dr. Blitz fixed my foot perfectly, whereas a I couldn't even find a doctor in Canada to do it. With Dr. Blitz allowed me to walk and be mobile.
Judy traveled from Canada for Revision Bunion Surgery/Revision Hammer Toe Surgery and Bunionplasty®. Both feet were corrected at the same time. Dr. Blitz' surgery allowed her to walk immediately on both feet while her previous surgery involved casts and crutches/wheelchair.
My name is Judy and I came from Calvary Alberta Canada for revision surgery on one foot and for surgery on the other foot.
I'm very, very, very pleased with the results. I had a very good experience here. Dr. Blitz treated me wonderfully and his staff and the end result is excellent.
I found Dr. Blitz, actually, on the internet and I did a lot of research. I was looking at different sites and different reviews and that's basically how I found him. Through references, it seemed to be the way to go.
So, I had surgery done in Canada and my left toe popped up to the point where I couldn't even wear shoes anymore. So it wasn't done properly… The bunion as well.
And Dr. Blitz actually had to lengthen the toe and fix it up basically and he did it perfectly whereas in Canada, I couldn't find one to do it.
Having surgery the second time was a lot different than the first time because the first time I had bunion in Canada, I couldn't weight bearer for 6 to 8 weeks. I was on crutches or a wheelchair… whichever devise I was using. Whereas with Dr. Blitz, I got a Lapidus plate put in which allowed me to walk and pretty much be mobile.
Dr. Blitz is very professional. He made me feel much at ease. I was very nervous when i first decided to do the surgery. He made me feel so much at ease. I could call the office and talk to the office manager who also made me at ease.
I felt like I was in very good care and the day of the surgery, I knew everything was going to be just fine.
So traveling to New York for the surgery was actually a lot easier than I imagined it would be. Recovering in a Hotel room was wonderful. The care that I got here was fantastic.
I actually think coming to New York, getting your surgery done by Dr. Blitz is the best thing you can do if you've got any kind of bunion or foot problem.
I'm very happy with the results of Dr. Blitz' surgery and I would be happy to be a reference to anybody who is thinking of doing this surgery.
It's definitely worth taking the trip here and getting it done and getting it done right.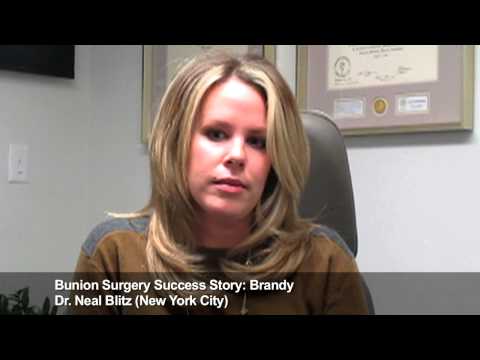 Brandy: Bunion Surgery
My feet now are fantastic and I get compliments... I would do it again in a heartbeat of I had to because the relief of pain has really changed my life
Brandy underwent Bunionplasty® on both feet and was allow to walk after surgery in a surgical shoe (No Cast No Crutches™). She is extremely happy with the way her foot look and feel.
Hi, my name is Brandy. I had Bunion surgery on both my feet. I found Dr. Blitz both online as well as… I saw him on an interview on ABC News.
My feet now are fantastic. I get compliments often at the gym. They feel wonderful in shoes and even doing physical activity that I did before surgery.
I was beyond apprehensive to have surgery. I was petrified. So, after going to several doctors, I put the surgery off for 15 years and after coming to Dr. Blitz, I felt incredibly comfortable. I was very scared for the first surgery, but it went well. So much so, that for the second surgery, I was asking if I could have the surgery sooner than anticipated. So, all my fears were completely vanished.
I would say Dr. Blitz has the best bed-side manner of any doctor that I have been in contact with and as someone who has had more surgeries than I would like to admit, the amount of patient care that you get from him and his staff is paramount. It's something that made me choose Dr.Blitz over any other.
Before I came to see Dr. Blitz, I had probably seen several surgeons who wanted to put me in a cast and crutches for several months. And for somebody who lives in Manhattan and has a very active lifestyle, it wasn't something I could sacrifice by way of time. So after a couple days, I was incredibly surprised that I could walk around in a surgical boot and several days after that, I was up and about in the city. That was a pleasant surprise to me and the thing that sets Dr. Blitz apart from other Doctor's in the field.
So many people ask me if I would do it again, frankly, I say the same thing. I would do it again in a heart beat because the pain and the relief of the pain has really changed my daily life.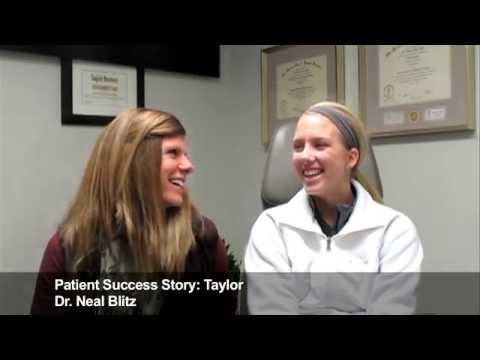 Taylor: Bunion Surgery
My feet look beautiful. I never thought my feet would as good as they do now, they are perfect.
Taylor (and her mother) traveled from Duluth for Bunionplasty® on both feet because the recovery would allow her to walk in a small surgical shoe without casts and crutches. They traveled because they feel Dr. Blitz is the best bunion bunion surgeon in the Untied States, and are happy with the result.
Tera – Hi, my name is Tera and we traveled here from Minnesota to have Bunion Surgery.
Taylor – I never thought that my feet would look the way they do now. There perfect.
Tera – So Tayler had both of her feed done and she also had a correction on malunion 3rd toe that she had previous surgeries on that did not go very well.
Taylor – I definitely think I made the right decision by coming to New York to have Bunion Surgery.
Tera – We found Dr. Blitz by searching on the internet for someone who is considered an expert in Bunion Surgery. Dr. Blitz has a very personable way with the patients and both Taylor and I felt that meeting him fit both our expectations right off the bat and his follow up care is tremendous and we can say we have never had that experience with a surgeon or doctor before.
I would say the Travel experience actually went quite well. Everything came together very quickly and with how quickly it went, it was actually a very easy trip to plan.
Taylor – Yea, I would do it again! My feet look beautiful!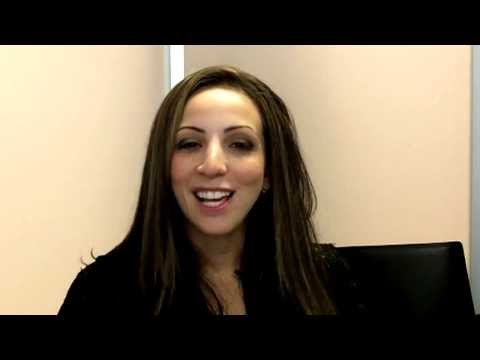 Noreen: Bunion
When I went back to work within one week, I was able to deliver babies [as an OBGYN]
Patient is an OGBYN who underwent bunion surgery on both feet at the same time. Dr. Blitz' walking protocol after Lapidus Bunionectomy with the Contours plate allowed the patient to ambulate immediately after surgery and return to her work as a surgeon within 1 week after surgery.
Hi, my name is Noreen. I'm an OB/GYN, resident now attending and I had my… both bunions done by Dr. Blitz. II had really bad bunions and I can't believe I'm admitting that on camera, but I had really bad bunions. And Dr. Blitz performed a Lapidus procedure on both feet.
When I first came to Dr. Blitz, I was very skeptical about bunion surgery because I was in the last year of residency and I had move around and walk around. And so… but I didn't want to undergo surgery twice. So I came to him and I spoke to him about the recovery and he said it was much less with the procedure that he does and the plate that he developed. And I went with it.
I only had a week vacation where I was able to be off my feet. When I went back to work, within a week I was able to deliver babies, I was able to operate. I actually… week two, I did a four hour surgery standing straight. And basically the recovery is amazing. Totally what I didn't expect. I expected to be immobile, I expected to be sitting in a house, not being able to do much and… but it was great. I had a great recovery.
I would definitely recommend Dr. Blitz for this surgery, for bunion surgery because I'm very happy with my outcome, I'm very happy with my recovery. I'm very happy with the patient care. There was not a moment where I needed to speak with him about any medications, any movement, anything that I needed, when I should exercise and so on, and he was there all the time. And it was definitely a great experience and I would definitely recommend him to anyone that is thinking about this surgery.
You should definitely do your research, you know, bunion surgery is not a small surgery, although I'm simplifying it a lot because Dr. Blitz made it a very easy transition. However, you should definitely see… you know, going to who's done the procedure, how many they've done. In terms of my doctor, Dr. Blitz, he has done… I want to say thousands of bunions. And also he developed the plate that he put in both my feet. And so knowing the mechanism of the plate and how it's placed because he developed it as very comfortable.
Before I met Dr. Blitz, I had been to different doctors exploring the surgery and when I came to Dr. Blitz, I felt very comfortable, he explained the surgery very thoroughly. He drew pictures. He gave a comforting feeling, you know, to the patient and it made me at ease and actually I decided in that first visit that I was going to do the surgery with Dr. Blitz.